Published on February 12, 2019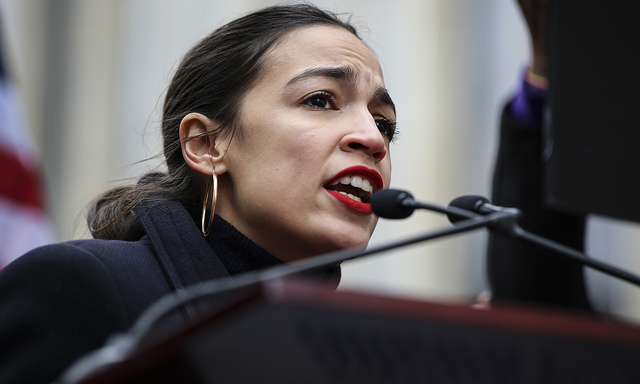 Democrat congresswoman Alexandria Ocasio-Cortez, along with other representatives, have just introduced to Congress a resolution 'recognising the duty of the Federal Government to create a Green New Deal'.
Much debated in the US – praised by some environmentalists, criticised as a 'socialist manifesto' by some Republicans – the vision espounded in the Green New Deal is ambitious. The premise is acknowledging climate science, the historical responsibility of the United States for climate change, as well as the fact that the US economy has been stagnating and society is confronted with a plethora of crises.
The Green New Deal refers back to Roosevelt's New Deal responding to the great economic crisis in the interwar period, arguing that it has contributed to 'creating the greatest middle class the US has ever seen' but criticising that the economic benefits have not reached frontline and marginalised communities – something that the Green New Deal seeks to remedy.
The Green New Deal sets forward a vision of at the same time addressing climate change and social inequalities that have been plaguing the United States. It aims to make the US carbon-neutral in a decade 'through a fair and just transition for communities and workers', which includes creating millions of good, high-wage jobs and addressing historic discrimination of 'frontline and vulnerable communities'.
The goals of the document include a "10-year national mobilization" to:
– build resiliency against climate change-related disasters
– upgrade infrastructure
– meet power demand with "clean, renewable, and zero-emission energy sources"
– expand energy efficiency and access to power
– work with farmers to cut emissions
– overhaul the transportation sector with electric vehicles, public transportation and high-speed rail
– remove greenhouse gases from the atmosphere by bolstering forests
The Green New Deal, says the resolution, must be developed through a 'transparent and inclusive consultation, collaboration and partnership with frontline and vulnerable communities, labour unions, worker cooperatives, civil society groups, academia and businesses.'
The Green New Deal vision also involves access to education for all people, unionised jobs, healthcare and decent pensions, paid vacations and many other rights that working Americans have not – probably ever – been able to take for granted.
Wherever this initiative goes, the document is worth reading (once again, you can see it here). Its ambition and inclusiveness are probably a source of inspiration for anyone working on Just Transition, even this side of the Atlantic.
Photo by Flick user Dimitri Rodriguez.